Today, we celebrated the 100th birthday of one of our tenants, Patrick, with a party.
Patrick has lived at Lyn Gilzean Court in St Ann's for 26 years since he had to leave his home on the island of Montserrat behind due to the eruption of Volcano Soufriere in 1995, which buried the capital in 12 feet of ash and killed 23 people.
As a colony of Britain, Montserratians are entitled to British citizenship. The British government announced that it would evacuate Montserratians to Britain. The CEO of Tuntum at the time, Richard Renwick, contacted Nottingham City Council to ask if any evacuees were coming to Nottingham and was told that a number of families were arriving. A welcoming committee was quickly established and under Tuntum's leadership, a plan was devised. By the time the first four of 20 families arrived, a warm welcome was awaiting them at Tuntum's sheltered housing scheme, Acacia Court, now called Lyn Gilzean Court. You can read more about this in our 35th Anniversary brochure.
Surrounded by his family and neighbours, Patrick enjoyed his birthday party, which was held in the scheme lounge. Fellow tenants Monica and Chris home-cooked a range of traditional Caribbean food for everyone to enjoy.
Patrick was delighted to have received a birthday card from King Charles III and Queen Camilla.
His wife of 39 years, Bernadette said the secret to his long and healthy life was staying active and busy.
The new CEO of Tuntum Housing, Charmaine Simei, came to meet Patrick and wish him well.
She said, "It was really special to meet Patrick and his family, he is a remarkable man. It was also nice to see what a great community spirit they have at the scheme".
Laverne Dubois, the scheme manager said, "There's always a good atmosphere when our tenants get together, they really do look out for each other. It's been a privilege to have Patrick live here for so long."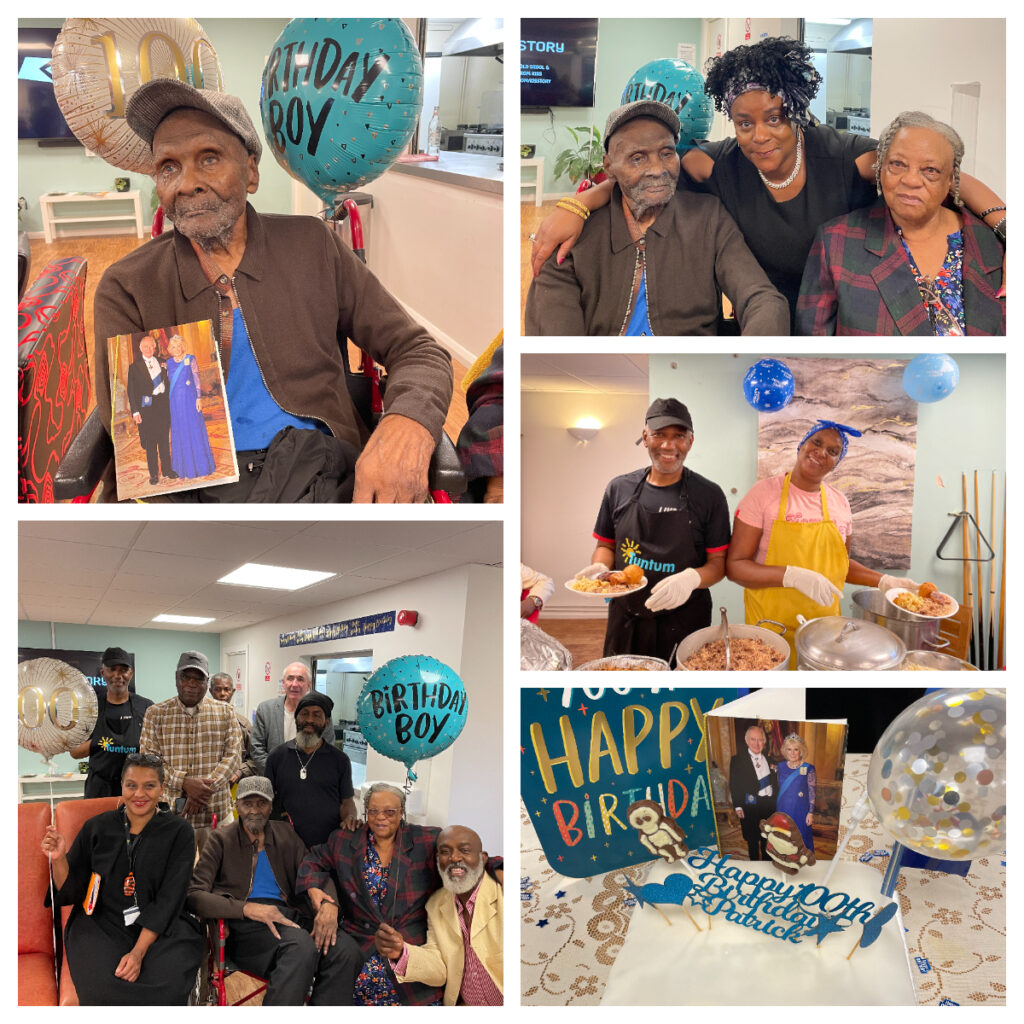 Pictured: 
Top left: Patrick with his card from the King and Queen
Bottom left: Charmaine Simei, CEO (left) with Patrick and tenants
Top right: Laverne Dubois, Scheme Manager with Patrick and Bernadette
Middle: Chris and Monica, tenants